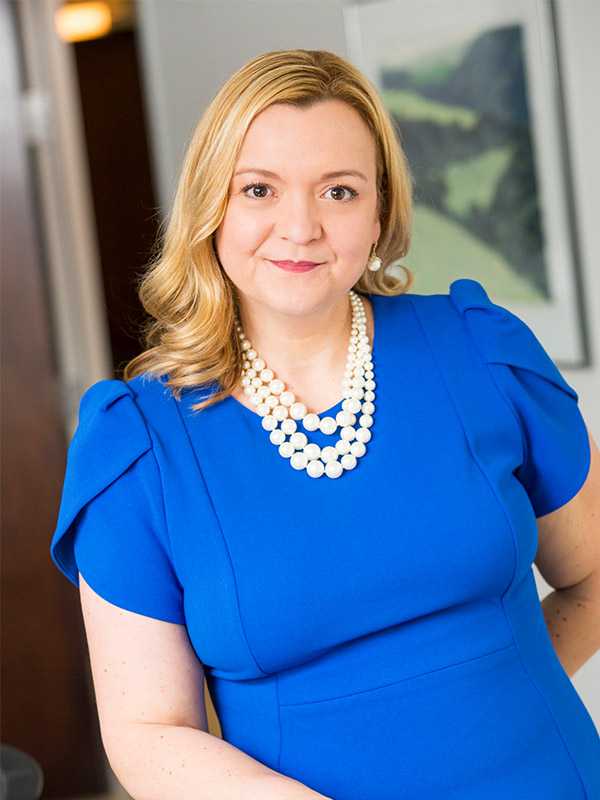 Tracy Hawkins
Associate
201 East Fifth Street
Suite 900
Cincinnati, OH 45202
P: 513-852-8207
Tracy joined Cors & Bassett in January 2020.  She practices primarily in Cors & Bassett's real estate group and is a licensed title insurance agent serving Sawyer Point Title, Inc., the firm's wholly owned title agency.
Background
Tracy provides legal counsel to individuals, businesses, property developers and institutional lenders, on a variety of matters including general business law, commercial construction and land development, real estate law and transactions, commercial contracts, real property acquisitions and sales, banking and finance, estate and succession planning, and civil litigation.
Tracy has been named a Rising Star by the Greater Cincinnati YWCA Academy of Career Women of Achievement, she is a graduate of the Clermont LEAD Academy, and she has been honored by the Legal Aid Society of Greater Cincinnati for her work in the Volunteer Lawyer's Project. Tracy is also a member of the Loan Review Committee of Hamilton County Development Center, serves on the Board of Advisors for the Cincinnati Women's Business Center and is the Compliance Officer on the Board of Directors for Child Focus, Inc. She is a frequent author and presenter at continuing legal education and general business seminars.
In addition to the foregoing, Tracy serves on the Board of Directors of the Ohio Police K9 Memorial Association, Inc. and is on the Board of Advisors to Clermont Animal CARE Humane Society, Inc. and the Brown County Humane Society, Inc. She is also the Legal Advisor to the Georgetown High School Mock Trial teams and was named a National Inspiring Coach by Brooks Running for her work with student-athletes. She also previously served on the Board of Advisors and CEO Roundtable for the Clermont SBDC, the Board of Directors, Cincinnati Susan G. Komen for the Cure, and the Research and Translation Core of the BCERC at University of Cincinnati.
Tracy received her Juris Doctor from NKU's Salmon P. Chase College of Law, where she competed in moot court national competitions, was awarded the Best Oral Advocate in the J. Grosse Competition, and was the recipient of the Ambrose H. Lindhorst Scholarship and the CALI Award of Excellence. Tracy earned a Bachelor of Science degree in Psychology at the University of Evansville in Evansville, Indiana.
She resides in Clermont County, Ohio and enjoys traveling with her three dogs.
REPRESENTATIVE MATTERS
Tracy's practice is focused on real estate law, and she has considerable experience in commercial real estate, including title insurance, representation of buyers, sellers, borrowers, and lenders, in real estate acquisition, sales development and financing.  She works collaboratively with clients to manage real estate transactions from start to finish, some of which include:
Serving as lead real estate counsel to seller on a $170 million sale of eight properties in two states where each facility was operated by multiple entities, subject to leases and governmental contracts. Negotiated the terms of the real estate deal and prepared all real estate and closing documents. Served as closing attorney and title insurance agent.
Serving as lead real estate counsel to lender on a $65 million loan transaction for a multi-state health care provider's acquisition and construction of new facilities in Ohio. Structured, negotiated, and documented the term loan and the construction loan. Served as closing attorney and title insurance agent.
Serving as lead real estate counsel to property developer on a $41 million project for acquisition and mixed-use development of real estate. Negotiated the purchase transaction and loan terms, and prepared all closing documents. Served as closing attorney and title insurance agent.
Serving as lead real estate counsel in complex litigation and arbitration of a $122-million construction dispute in Kentucky. Prepared discovery requests and responses, prepared witnesses, attended arbitration, and filed collateral claims in other jurisdictions.
Serving as lead counsel in a commercial loan work-out for lender after borrower's misuse of commercial construction draws and failure to develop the real estate. Responsible for comprehensive planning of the site's re-development to mitigate loss and served as construction project manager during redevelopment. Negotiated full waivers of liability with ODNR and local government.
Education
NKU Salmon P. Chase College of Law
University of Evansville, Bachelor of Science
Bar / Court Admissions
Ohio
Kentucky
United States District Court | Southern District of Ohio
United States Bankruptcy Court │Southern District of Ohio
Professional Affiliations / Recognitions
Ohio State Bar Association
Cincinnati Bar Association
Clermont County Bar Association
Ohio Land Title Association, Inc.